Aurora Blog
Getting Started
The Aurora Blog offers a host of features and intuitive functionality and makes it a breeze to publish interesting, dynamic and search-engine rich content that you can share with your customers and readers via social media or a Really Simple Syndication (RSS) feed.
For help placing a Blog Content Element on a page, check out our Blog Content Elements section!
Let's Get Started!
Start by logging into your Aurora account. You can add a blog to your website by selecting More and then Dashboard from the Aurora content management tools.
From the Services menu, select Blog.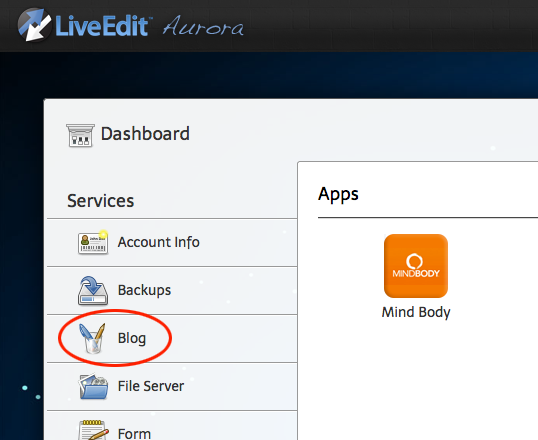 On the Aurora Blog screen, select the Settings option and then the General link on the left-hand side of the page. Provide a title and description for your blog, and then select your preferred date and time formats.
That's it. Your blog is ready to go! Other settings you can affect on this screen include: Footer; Commenting; Sidebar; Social Media; and Import Blog.
For enhanced search engine optimization, think about using good, rich keywords in your title and description that are relevant to your business or service.